Welcome to Suncatchers' Dream!
Currently closed due to Hurricane Ian damage.
Beautiful, Artistic, Functional & Reasonable Gifts
Perfect "Something" for Every Occasion
Full-Service with Free Gift Wrapping
Located on Beautiful Sanibel Island
1200 Square Feet of Breathtaking Merchandise
Currently closed due to Hurricane Ian damage.
Help Daniel Thompson Rebuild from Hurricane Ian
HERE'S TWO WAYS TO SUPPORT US WHILE WE'RE CLOSED DUE TO DAMAGE FROM HURRICANE IAN:
1) Hi, my name is Nancy La Shure, and I am helping my friend Daniel Thompson who lives and works on Sanibel Island, Florida. Daniel lost his business, and his home was also severely damaged due to Hurricane Ian. 100% of all funds raised will go directly to Daniel so he can begin to rebuild his home and recreate his business, Suncatcher's Dream. Thank you for any donation you can share. Island Love from Daniel!
Visit the GoFundMe Link
2) Dune jewelry is helping out our store. Many customers have contacted wanting to support us. Visit
DuneJewelry.com
. Create an account. Log in. Shop! View cart. Enter code SupportSuncatchersDreamFL. Click apply. You get free shipping and we will get the credit like you shopped in our store.
We will rebuild! We will be back on Sanibel! I promise! Thanks to our Dune family! Need help contact Moira at
moira@dunejewelry.com
.
Sanibel strong!! All our girls are safe FYI!
Featured Artists from Sanibel Island, All Over the Country & Abroad!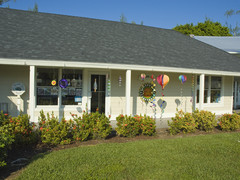 Everyone knows Suncatchers' Dream is a Sanibel Island "Must-See". Now our Online Store can fill your need for a Sanibel "Fix" until you can get back in person! When on Sanibel stop in to say "Hi" to Dan and get tips for shelling, fishing and dining. Look forward to seeing you!
Want more information?  Contact Us Today!